Caliraya Lake General Info
General Information of Caliraya Lake
The following are the different information about Caliraya Lake and the adjacent towns situated on it.
Profile of Caliraya Lake
Location:     Caliraya Lake is situated in the towns of Lumban, Cavinti, and Kalayaan in Laguna
Settlements:     East Laguna
Provincial Capital:     Santa Cruz
Distance from Provincial Capital:     11 kilometers ( 6.837 miles )
Country:     Philippines
Continent:     Asia ( Far East )
Lake type:     artificial/man-made lake
Coordinates:     14° 17.281N 121° 30.228E
Distance from Manila:     110 kilometers (68.365 miles)
Travel time:     two hours and thirty minutes
Target species:     Largemouth Bass ( Florida strain )
Elevation:     1, 200 feet above sea level ( 365.854 meters )
Maximum length:     8 kilometers ( 4.972 miles )
Maximum width:     3 kilometers ( 1.865 miles )
Shore length:     30 kilometers ( 18.645 miles )
Surface elevation:     300 meters ( 984 feet )
The Caliraya Lake is situated in the three towns namely: Lumban, Cavinti, and Kalayaan in the province of Laguna, country of  Philippines in Far East Asia. Caliraya Lake is an artificial/man-made lake made by an American Engineer.
Caliraya Lake is seated one-thousand and two-hundred feet above sea level. Caliraya Lake distance from the capital city of the country, Manila, is one-hundred and ten kilometers and it will take you about two-and-a-half hours of driving.
History of Caliraya Lake
The Caliraya Lake is a man-made lake located at Lumban, Laguna situated at 1,200 above sea-level. This is certainly one of Laguna's summer hotspots where local and foreign tourists visit every year.
Caliraya Lake was created in late 1930s by a US Army Engineer by flooding the Cavinti valley of the Sierra Madre to generate hydroelectric power for Manila. Caliraya Lake was sabotaged by retreating Americans to prevent use by Japanese soldiers who rebuilt it, then themselves sabotaged it as their own defeat approached.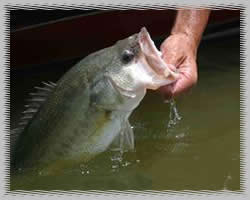 Through the years, Caliraya Lake remains the most popular bass fishing spot in the country. Caliraya Lake was 'discovered' in the early 1970's by Manila tourists who then popularized the lake to Manila's elite and expatriate community.
The surroundings of Caliraya Lake increased dramatically, more so when the main road was upgraded to concrete and the hydroelectric plant were built. Caliraya Lake became a high class neighborhood of vacation homes on the lake, similar to those in western countries, for the rich and famous. That was until the 1980s, when Lake Caliraya's surroundings were occupied by the New People's Army, affecting tourism and development.
Nevertheless, since mid-1980s there has been major real estate development, with the construction of several world class resorts, golf courses and country clubs. Caliraya Lake to this day is a haven for the rich and the elite, with activities including large mouth bass fishing, wind surfing, jet skiing, water skiing, boating in general, golf, camping, and other sporting and outdoor activities. Property values remain high, and a new generation of developments, private and commercial, is on the rise.