Going to Caliraya Lake
How To Get to Caliraya Lake

Upon visiting the Caliraya Lake in Laguna, there are two options for you to choose from, depending on your location, your type of transportation, public or private, or if you want a shorter time or course in going there. One is via the South Luzon Express Way while the other one is via Antipolo.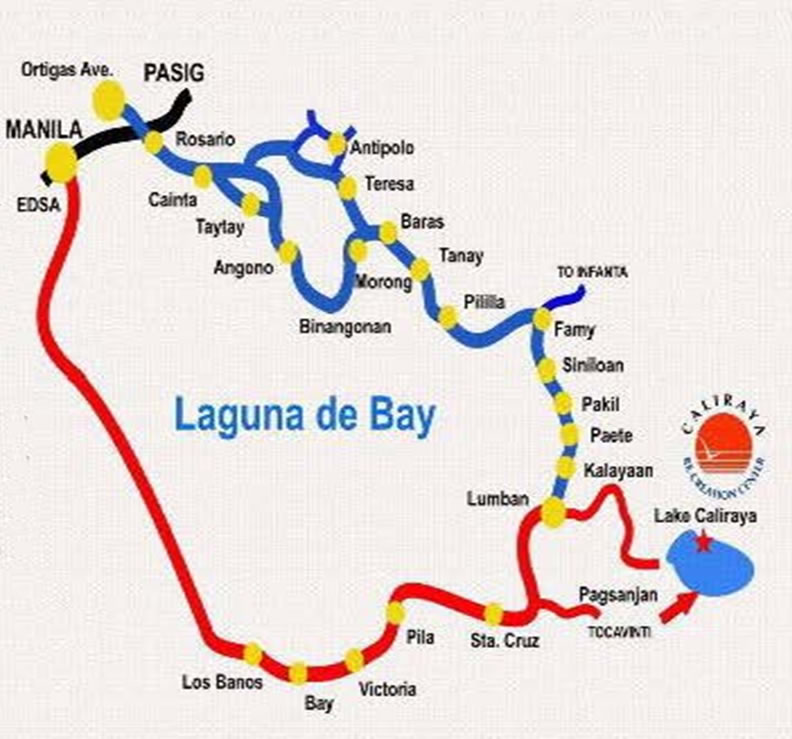 * From the Cubao Bus Terminal to Caliraya Lake, take a bus ( HM Transport or any bus ) that going to Pagsawitan. This ride will take you about two to two-and-a-half hours. Then, at Pagsawitan terminal, take a 3- to 5- minute ride to a tricycle or a jeepney with a signboard "Lumot" . From Lumot terminal, take a ride to a jeepney that going to Lewin for about half an hour.
From the place of Lewin, you then take a ride to a boat for about 2 to 3 minutes that bring you to one of a resort at Caliraya Lake.
* From Metro Manila bus station to Caliraya Lake, take a bus with a signboard of Sta.Cruz in Laguna and get off at the Pagsawitan, Pagsanjan terminal. Then, take a jeepney- or tricycle- ride that brings to you to the Sta. Cruz terminal. The jeepney will pass thru Pagsanjan, it will turn left then pass thru Lumban, turn to the right to climb the mountain road to Caliraya where you can find of course the Caliraya Lake with different resorts along with it.
Laguna Province Accessibility
Major bus companies here in the city have its trip to the well developed roads to and from Metro Manila and within the CALABARZON (Cavite-Laguna-Batangas-Rizal-Quezon) on a regular basis. Bus terminals are located at Buendia and Taft Avenue and EDSA in Pasay City.
* Eastern route to Caliraya Lake: In this route, you must take the Ortigas Avenue through the towns of Rizal and onward to the eastern towns of Laguna through the Laguna de Bay road network.
* Southern route to Caliraya Lake: In this particular route, the South Expressway is the main artery, with exits at San Pedro, Biñan, Sta Rosa, Cabuyao and Calamba in Laguna.
* CALABARZON route to Caliraya Lake: The highway system and well-developed road network of this region links the neighboring provinces with ease and convenience for tourism, trade and commerce.